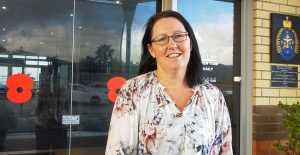 When the water started rising at Waihī Beach last month, local RSA manager and community volunteer Mel Gearon was ready to rescue flooded residents – and give them a hot meal and a place to rest.
It was raining hard on May 29 at the beach when Mel had a call from a friend about 2pm saying it was starting to flood. Mel is a trained volunteer firefighter so she raced to the station where they were getting call after call from anxious residents.
Their first callout was to people trapped in a flooded car, but an off-duty firefighter had already rescued them so they raced off to the pensioner flats in Beach Road. They don't flood often, but on this day the elderly residents were watching the water rise rapidly.
"We got people out as it was already knee deep, but within minutes it was waist deep as water came pouring through. The Waihī brigade had also arrived, and St John so we double checked that everyone was out and had to persuade some that they had to go.
"I called Mike the chef at the RSA and told him to bring the van down to collect people and take them back to the evacuation centre at the RSA, got someone to pick up my two children after school and began checking houses along Brighton Road."
Back at the RSA they made lists of who was there, who needed alternative accommodation and who needed dry clothes.
"That's something we'll be adding to our existing emergency kits – track pants and tops and blankets. We already have some medical items, radio and other things in a big bin.
"I also had to check on my staff and make sure they were ok. The council was brilliant and St John had blankets for wet people. We fed everyone and then took them where they needed to go."
Helping where she's needed is second nature to Mel. She's been with the fire service for eight years and has been volunteering for 16 years, starting with Playcentre, Parents Centre, the surf club and then working in events and promotion for the town.
"I've learned useful skills with the fire service and over time I have enough phone numbers and contacts of people who can help in a crisis. If you can help, why not.
"It's exhausting, but satisfying and I don't like seeing people who are in need. If I have the knowledge to help, why not pass it on. I don't want to be that person who doesn't know what to do in a crisis."
She also uses her interest in volunteering when choosing her staff, and raising her children. "I look for that volunteering on their CV. If you can find space in your life for those around you then you should volunteer. I tell my kids, do something to contribute. It's your community."