All around Tauranga, a bunch of women – and a few men – are busy in their kitchens baking cakes and slices they'll never get to eat.
It's World Kindness Day on November 13, and many Good Bitches around the country are dropping off their goodies to women's refuges, prisons, hospices, food banks and soup kitchens. They're part of Good Bitches Baking – a network of volunteers who want to show kindness to people in their communiti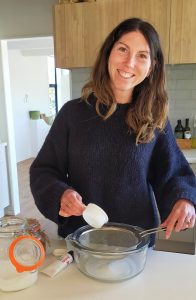 es who are having a rough time by baking them a treat.
Lawyer Monique Banks has been a Good Bitch for a few years and heard about it through a friend who was baking in a different city. She had to go on a waiting list – people are pretty keen to bake for others – but now turns out a cake every couple of months and drops it off to Awhina House, Tauranga's women's shelter.
Baking is something different for Monique from her usual job as legal and commercial manager at the Regional Council, where Head Bitch Mary Norris also works.
"I think it's really important to contribute to your community and I get pleasure out of baking. It also shows our two children that you can help others and bring joy to someone else's day. There's not a lot of cost involved, and it's not too much trouble to bake a cake every couple of months and drop it off. There's also the joy of baking without the calories."
She says her husband doesn't quite agree as he watches another cake disappear out the door.
"I work full time and have a five year old and a seven year old, and I do other things in the community too, but this is one small thing I can do for others to bring a bit of joy."
She's one of the bakers in 29 chapters around New Zealand, making a difference in someone's day with a treat. Each chapter has a roster and matches wit
h organisations needing help.
Bakers make what they like, and for Monique that sometimes means using whatever is in the cupboard. It's also a nice way to try something different or test a recipe. Their Facebook group keeps track of what people are making so they don't bring the same thing each time. Last time it was a caramel cake.
Her children go with her to drop off the goodies before school, and Monique says they learn that they are really privileged to have a home and family, and that doing little things can really brighten other people's day.
The organisation has had a few queries about their unusual name, but they say calling someone a good bitch is high praise, implying action, hard work and humility. They say kindness is redemptive to everyone, everyone deserves to receive kindness and everyone can benefit from the opportunity to be kind.
Volunteering Services manager Angela Wallace said World Kindness Day was an opportunity to highlight good deeds in the community, and the common thread of kindness.
"We'd like to recognise all our local volunteers who spread kindness wherever they go. Our Volunteering Services whakatauki [proverb] is 'he aroha whakāto, he aroha puta mai – where kindness is sown, kindness you shall receive'."