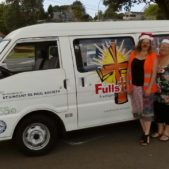 Meari is heavily involved with the St Vincent De Paul Fullstop Van and Loaves and Fishes. Two very important initiatives dedicated to providing food to children throughout Tauranga who would otherwise go without. She has always been a giving person Volunteering like any mother would at school events, swimming club and Surf Lifesaving carnivals. It wasn't until she saw a sign advertising full stop in the church bulletin that she got heavily involved in Volunteering.
Meari has seen a lot of young people involved with the St Vincent de Paul initiatives. Meari encourages all young people to get out and Volunteer. "Get involved with anything and everything because time goes by so fast. Get involved even if it is just small steps". Meari highlighted that everything you do, whether it small or big, done right can make a huge difference in the lives of others.
Meari's top tips for young Volunteers
Don't waste your time get involved as soon as you can.
Balance your school work, sport and Volunteering. Volunteering doesn't mean giving up your interests, instead use your interests in a positive way to help others.
Don't feel you can only help by doing something big, even small things make a big difference.
If you are able to let giving into your life, thrive on it and build from it.