Why Volunteer?
When you Volunteer, you help others, and studies show that Volunteering helps you too. You could say Volunteering benefits the whole community. These are just some of the benefits you'll experience when you donate your time to a local organisation needing your help: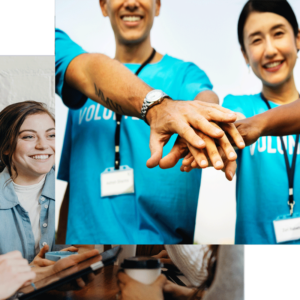 Gain new skills and knowledge.
Boost your job and career prospects.
Experience a sense of achievement and fulfilment.
Develop personally and increase self esteem.
Enjoy better physical and mental health.
Connect with, and better understand your community.
Meet new people and make friends.
Increase Connection and Personal Growth
When you form relationships to help others you are increasing your social capital.
Why is this important? When you connect with others for a common good, it increases your sense of community participation and belonging. Your understanding of diversity and ability to communicate with others increases too. This is one of the biggest Volunteering benefits.
Volunteering gives you the opportunity to learn new skills for your own benefit. Whether you're exposed to team work, problem solving, decision making, or leadership there are plenty of opportunities for you to gain the skills and experience you want to master. This is known as increasing your human capital.